Anciens événements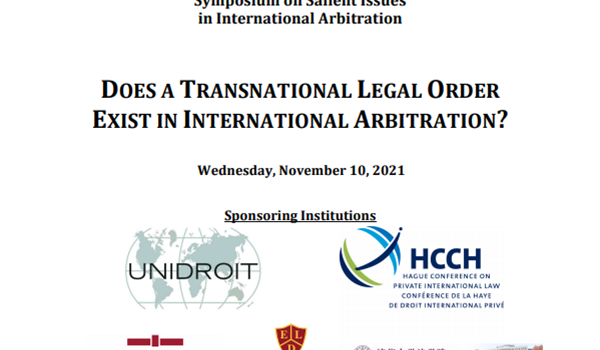 15 juil. 2021
Call for Papers for the Symposium on Salient Issues in International Arbitration
Deadline extended to July 15!
On Wednesday, November 10, 2021, the Center on International Commercial Arbitration will hold the fifth Symposium on Salient Issues in International Arbitration. The topic of this Symposium will be:  
Does a Transnational Legal Order Exist in International Arbitration? 
The Symposium is organized by the Center on International Commercial Arbitration at American University Washington College of Law under the direction of Professor Horacio A. Grigera Naón, and the Institut Suisse de Droit Comparé, represented by Professors Krista Nadakavukaren Schefer and Rodrigo Polanco Lazo. The Symposium is co-sponsored by the following institutions: UNIDROIT (Rome), Hague Conference on Private International Law (The Hague), Bucerius Law School (Hamburg), Escuela Libre de México (México), and Tsinghua University School of Law (Beijing). The Symposium is also supported by Transnational Dispute Management (TDM) as media partner.
This call for papers is open to scholars and practitioners with an interest in international arbitration, where in the field of commercial or investment arbitration. Submissions may address either theoretical or practical issues related to the Symposium theme.  For example, the papers may inquire if it is possible to speak today of a genuine "transnational legal order" or if the substantive rules of international arbitration are too fragmented and unstructured to receive such a label. Submissions may also consider the efficiency and desirability of other alternative sources of law governing international arbitration. One of the central areas that may be explored is the assessment, general outreach and application of the UNIDROIT Principles of International Commercial Contracts or the 2015 Hague Principles on Choice of Law in International Commercial Contracts. 
 To submit a paper, the authors should email an attachment in Microsoft Word or PDF containing the advanced draft of their articles together with an abstract of between 300 and 600 words to arbitration@wcl.american.edu. The deadline for submission of articles is June 15, 2021. Submissions received thereafter will not be considered.  
More info: 
https://www.wcl.american.edu/impact/initiatives-programs/arbitration/events/symposium/2021-symposium/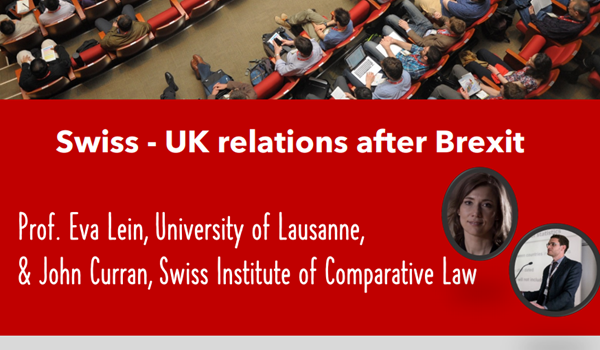 25 juin 2021
Swiss - UK relations after Brexit
Nouvelle conférence en ligne de l'AiSDC 
Inscription: marie-laure.lauria@isdc-dfjp.unil.ch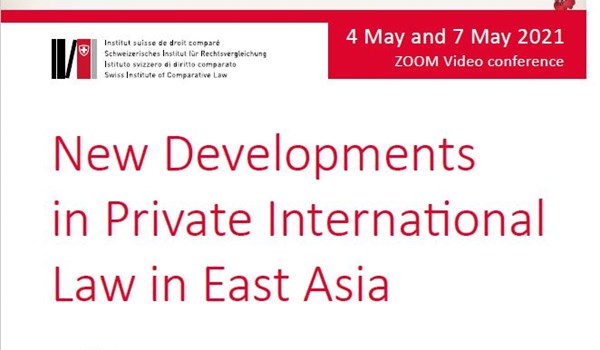 07 mai 2021
New Developments in Private International Law in East Asia
Institut suisse de droit comparé
Speakers and Moderators bios

Knut Benjamin Pißler

Legal system in China

Béatrice Jaluzot

Legal System in Japan

Jin Huang

New Developments of PIL in China

Yuko Nishitani

New Developments of PIL in Japan

Xiangshun Ding

China's International Commercial Court: Background, Innovation and Challenges

Dai Yokomizo

Choice-of-Court Agreements in Japanese Conflict of Laws

Geraldine Goh Escolar

New developments in Family Law in East Asia

Chen Weizuo

New Development of Chinese PIL in the Area of International Family Law

Mari Nagata

Some Issues of Family Law in Japan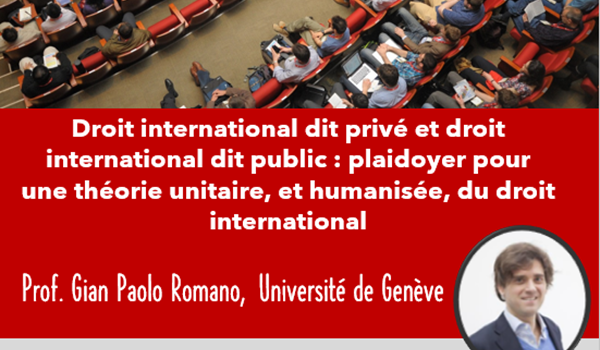 04 févr. 2021
Droit international dit privé et droit international dit public : plaidoyer pour une théorie unitaire, et humanisée, du droit international
Cette conférence est organisée par l'Association des Alumnis et des Amis de l'Institut suisse de droit comparé.
Inscription: marie-laure.lauria@isdc-dfjp.unil.ch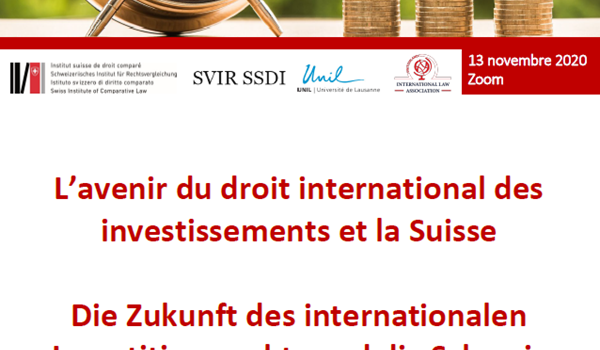 13 nov. 2020
L'avenir du droit international des investissements et la Suisse
Conférence gratuite par vidéoconférence (Zoom)
Inscription : news.isdc@unil.ch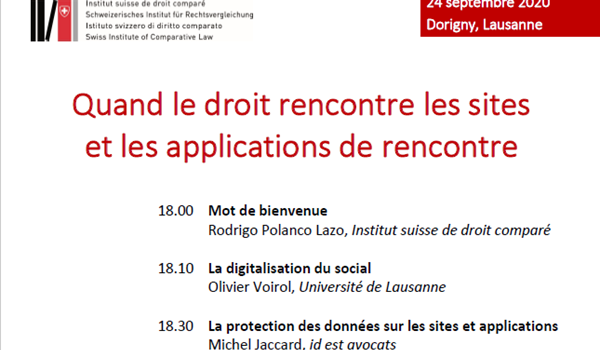 24 sept. 2020
Quand le droit rencontre les sites et les applications de rencontre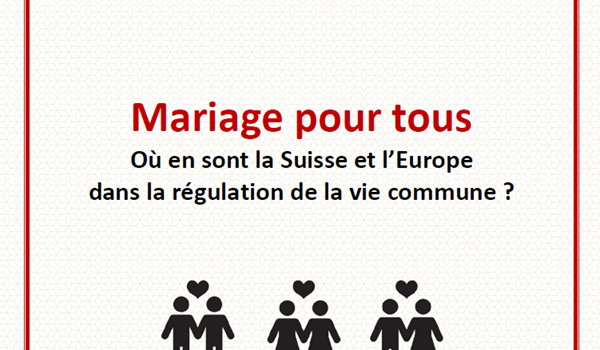 02 avr. 2020
Annulé : Conférence Mariage pour tous
Lausanne, Hôtel de ville (Place de la Palud)
En raison de l'augmentation des cas de COVID-19 en Suisse et en Europe et en concertation avec les autorités compétentes, l'Institut suisse de droit comparé a décidé de suspendre tous ses évènements prévus en mars, avril et mai. Les nouvelles dates seront communiquées dès que possible. Nous vous remercions pour votre compréhension.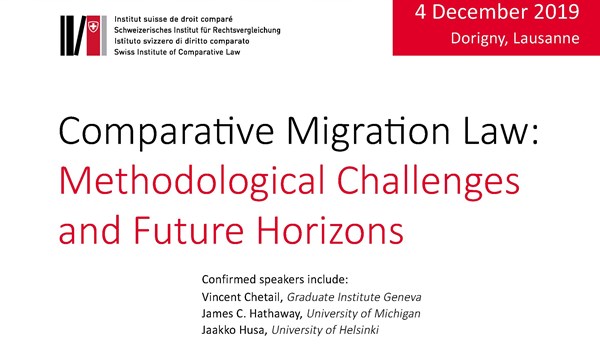 04 déc. 2019
Comparative Migration Law: Methodological Challenges and Future Horizons
The aim of the conference is to take stock of the current comparative migration law scholarship, and chart a path for future research. The conference will be looking at the uses and purposes of comparison in migration law and discuss different methodological approaches. It will bring together scholars in migration law, including refugee law, as well as scholars in comparative law and from other disciplines to provide insights on how legal scholars can best value add to the type of work they are undertaking.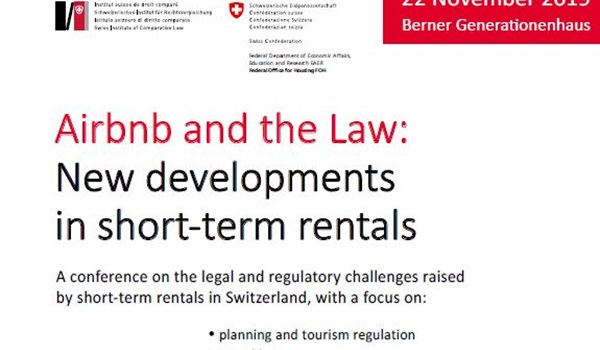 22 nov. 2019
Airbnb and the Law
New developments in short-term rentals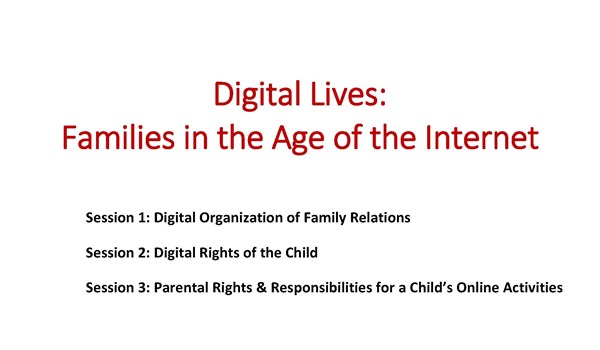 08 nov. 2019
Digital Lives: Families in the Age of the Internet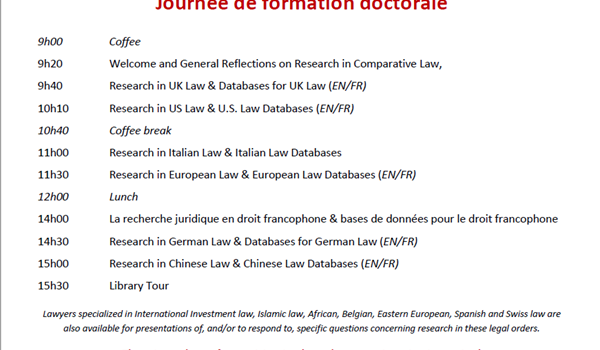 07 nov. 2019
Journée doctorale
Journée annuelle organisée avec le programme doctoral en droit.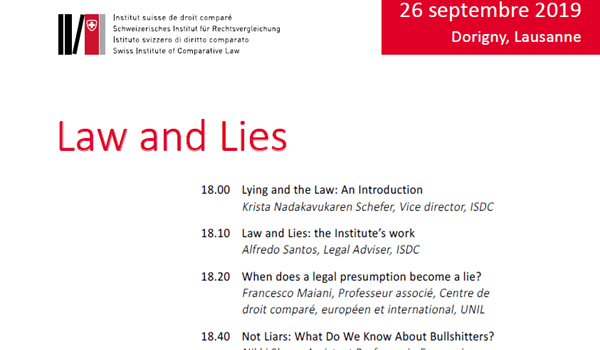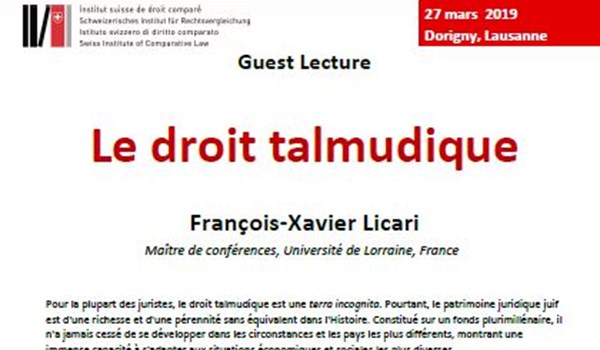 27 mars 2019
Guest Lecture : Le droit talmudique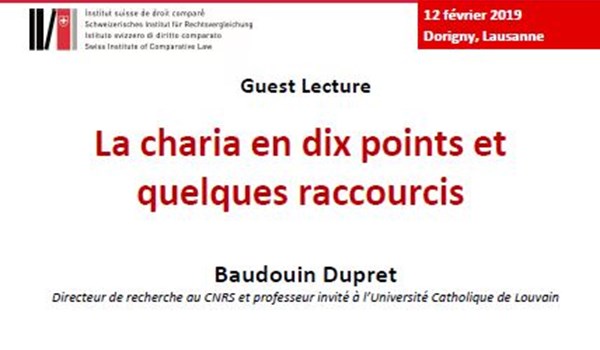 12 févr. 2019
La charia en dix points et quelques raccourcis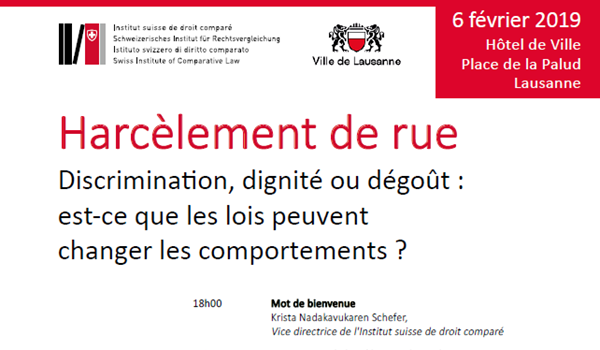 06 févr. 2019
Conférence sur le Harcèlement de rue
Hôtel de Ville, Place de la Palud, Lausanne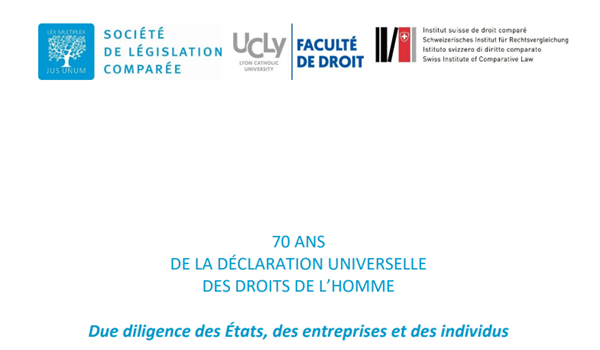 10 déc. 2018
Due diligence des États, des entreprises et des individus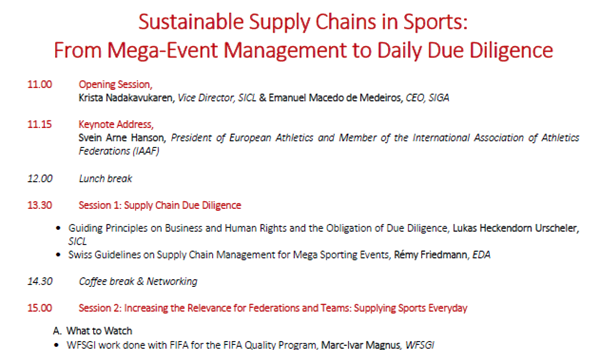 21 nov. 2018
Sustainable Supply Chains in Sports
Organised with Sport Integrity Global Alliance (SIGA)
Krista Nadakavukaren

Opening session

Emanuel Macedo de Medeiros

Opening session

Svein Arne Hansen

Keynote Address

Krista Nadakavukaren

Session 1

Lukas Heckendorn Urscheler

Session 1: Guiding Principles on Business and Human Rights and the Obligation of Due Diligence

Rémy Friedmann

Session 1: Swiss Guidelines on Supply Chain Management for Mega Sporting Events

Krista Nadakavukaren

Session 2

Stéphanie De Dycker

Session 2: National rules on Sport Governance

Paul Mougeolle

Session 2: Due diligence as a legal obligation in national law: the example of France

Marc-Ivar Magnus

Session 2: WFSGI work done with FIFA for the FIFA Quality Program

Colleen Theron

Session 2: How could Federations Manage Procurement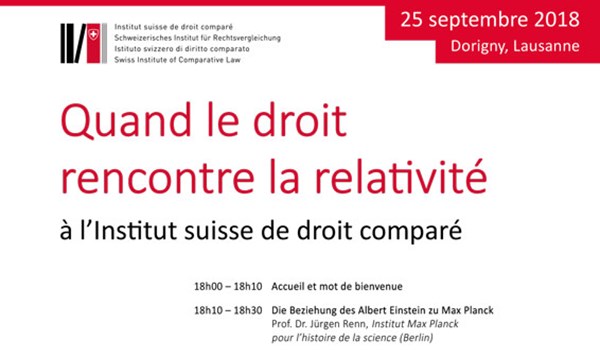 25 sept. 2018
Quand le droit rencontre la relativité : Soirée Albert Einstein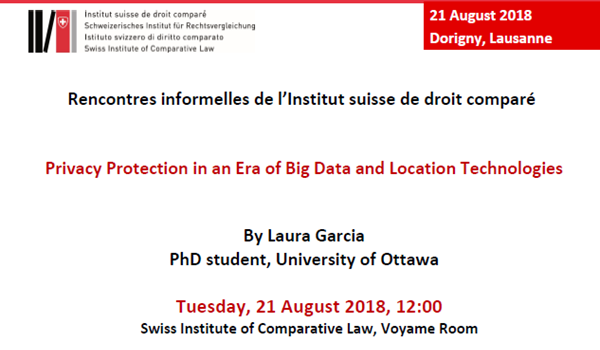 21 août 2018
Rencontre Informelle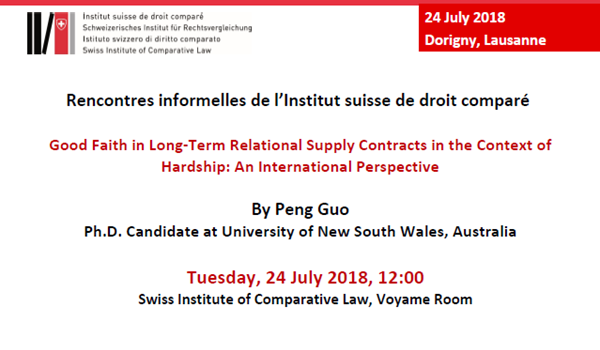 24 juil. 2018
Rencontre Informelle