Nouveautés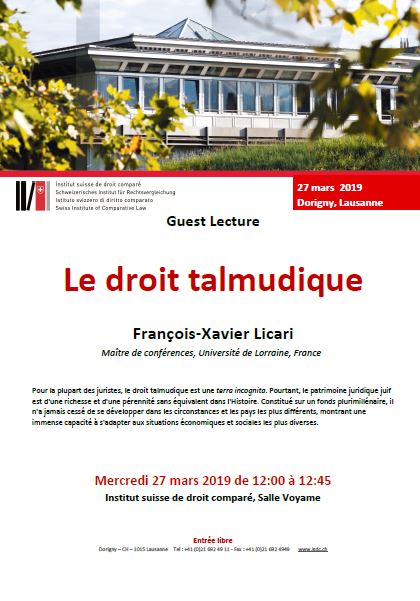 Licari, F. (2019). An introduction to Jewish law. Cambridge, United Kingdom: New York, NY, USA ; Cambridge University Press.
Scialom, R. (2017). Anthologie de droit hébraïque : Sources et codification. Paris: La mémoire du droit.
Licari, F. (2015). Le droit talmudique (Connaissance du droit). Paris: Dalloz.
Jaffé, D. (2013). Essai sur l'interprétation et la culture talmudiques : Femmes et familles dans le Talmud (Patrimoines, Judaïsme). Paris: Ed. du Cerf.
Halivni, D., & Rubenstein, J. (2013). The formation of the Babylonian Talmud. New York: Oxford University Press.
Alvarez-Pereyre, F. (2004). Le droit interne hébraïque (Collections de l'Université Robert Schuman. Société, droit et religion en Europe). Strasbourg: Presses universitaires de Strasbourg.
Hecht, N., & Boston University. Institute of Jewish Law. (1996). An introduction to the history and sources of Jewish Law. Oxford: Clarendon Press.
Steinsaltz, A., Gugenheim, J., & Grunewald, J. (1994). Le Talmud : L'édition Steinsaltz. Paris]: Fonds social juif unifié : J.-C. Lattès : [puis] Ramsay.
Ben-Menahem, H. (1991). Judicial deviation in Talmudic law : Governed by men, not by rules (Jewish law in context 1). Chur ; London [etc.]: Harwood Academic Publ.
Elon, M., & Kopelowitz, J. (1975). The Principles of Jewish Law. Jerusalem: Encyclopaedia Judaica.