News
A new search profile named swisscovery plus is now available in the catalogue. When selected, research results will additionally include items from certain Renouvaud [1] libraries, notably the collections of the law library in the Internef building, as well as documentation both with and without the complete text of the CDI [2]

Request options
Sign in now to see the available services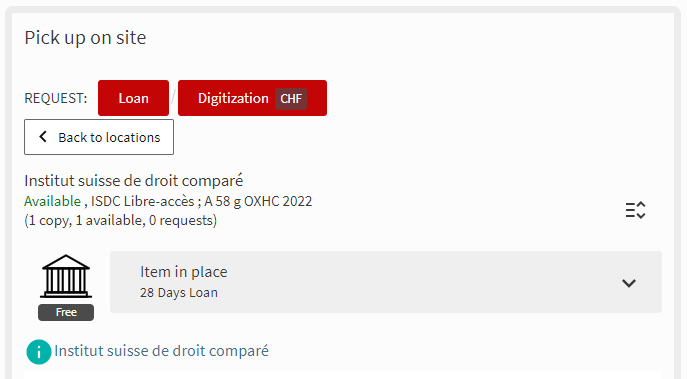 Pick up on site
If the item is already being borrowed, you can reserve it using the Loan button.
If you wish to obtain a partial copy of the book or document, you can make a request using the Digitization button. This fee-based service is aimed at users without a table at the SICL. Alternatively, the library scanners are available to you for scanning.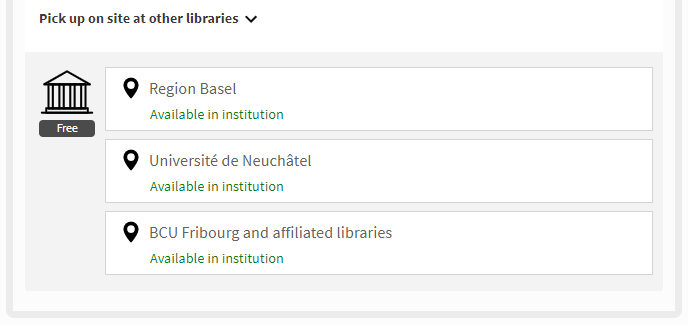 Pick up on site at other libraries:
You can see if the item can be found in other libraries and check its availability, as well as finding out more about the services offered by other institutions (reservations and digitization for example).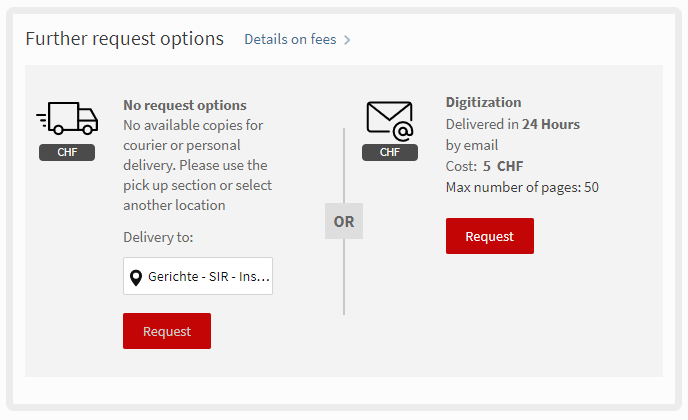 Further request options
Courier or postal delivery:
The library of the SICL does not offer these services.
Digitization:
If you wish to obtain a partial copy of the document, you can do so via the Request button in the Digitization section. This service is subject to a fee, payable by the user.
Interlibrary loan
If you would like to obtain an item that the library of SICL does not have, you can complete the Interlibrary loan form, available in the catalogue menu bar. This service is offered exclusively to users with a table at the SICL.
SLSP REGISTRATION AND FREQUENTLY ASKED QUESTIONS
 Please register today at swisscovery - Registration (slsp.ch) by following the appropriate procedure below :
SLSP registration with AAI (users affiliated with a Swiss academic organization)
SLSP registration without AAI (users not affiliated with a Swiss academic organization)
For more information, see Frequently Asked Questions
[1] Archives of the City of Lausanne ; BCUL sites : HEP, Internef, Riponne, Unithèque ; Institute of Humanities in Medicine ; Unisanté ; Lausanne University Medical Library ; La Source School of Nursing ; Haute Ecole de Santé Vaud ; Haute école de Travail Social et de la Santé.
[2] The Central Discovery Index (CDI) is an index containing descriptive metadata of electronic resources. It is supplied and administered by Ex-Libris, which collects the metadata directly from editors and aggregators of content.