Eventi passati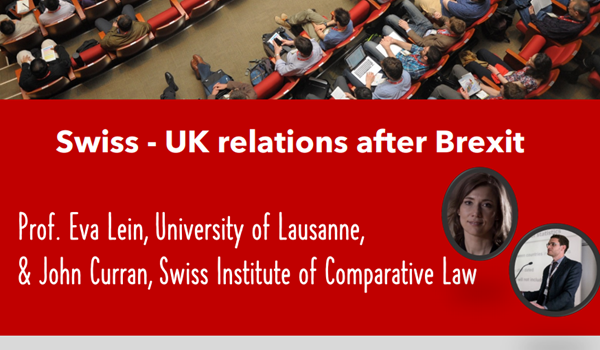 25 giu 2021
Swiss - UK relations after Brexit
Iscrizione: marie-laure.lauria@isdc-dfjp.unil.ch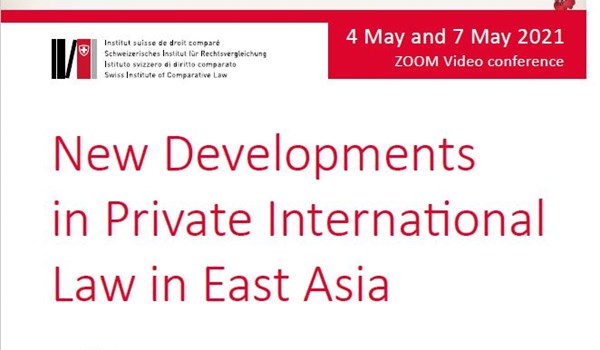 07 mag 2021
New Developments of Private International Law in East Asia
Swiss Institute of Comparative Law
Speakers and Moderators bios

Knut Benjamin Pißler

Legal system in China

Béatrice Jaluzot

Legal System in Japan

Jin Huang

New Developments of PIL in China

Yuko Nishitani

New Developments of PIL in Japan

Xiangshun Ding

China's International Commercial Court: Background, Innovation and Challenges

Dai Yokomizo

Choice-of-Court Agreements in Japanese Conflict of Laws

Geraldine Goh Escolar

New developments in Family Law in East Asia

Chen Weizuo

New Development of Chinese PIL in the Area of International Family Law

Mari Nagata

Some Issues of Family Law in Japan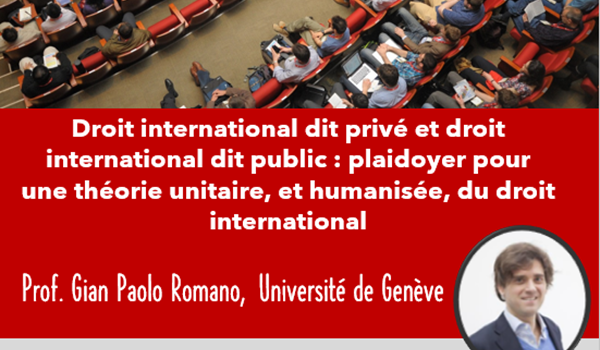 04 feb 2021
Droit international dit privé et droit international dit public : plaidoyer pour une théorie unitaire, et humanisée, du droit international
Cette conférence est organisée par l'Association des Alumnis et des Amis de l'Institut suisse de droit comparé.
Inscription: marie-laure.lauria@isdc-dfjp.unil.ch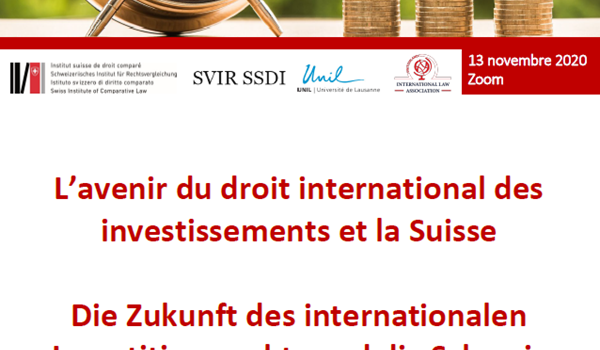 13 nov 2020
L'avenir du droit international des investissements et la Suisse
Conférence gratuite par vidéoconférence (Zoom)
Inscription : news.isdc@unil.ch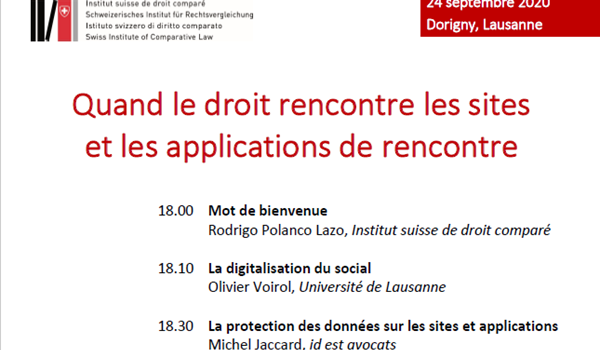 24 set 2020
Quand le droit rencontre les sites et les applications de rencontre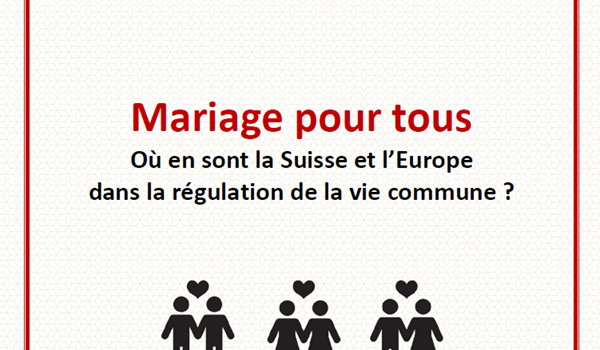 02 apr 2020
Annulé : Conférence Mariage pour tous
Lausanne, Hôtel de ville (Place de la Palud)
En raison de l'augmentation des cas de COVID-19 en Suisse et en Europe et en concertation avec les autorités compétentes, l'Institut suisse de droit comparé a décidé de suspendre tous ses évènements prévus en mars, avril et mai. Les nouvelles dates seront communiquées dès que possible. Nous vous remercions pour votre compréhension.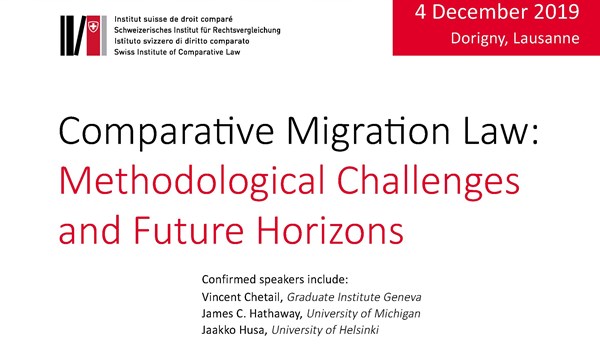 04 dic 2019
Comparative Migration Law: Methodological Challenges and Future Horizons
The aim of the conference is to take stock of the current comparative migration law scholarship, and chart a path for future research. The conference will be looking at the uses and purposes of comparison in migration law and discuss different methodological approaches. It will bring together scholars in migration law, including refugee law, as well as scholars in comparative law and from other disciplines to provide insights on how legal scholars can best value add to the type of work they are undertaking.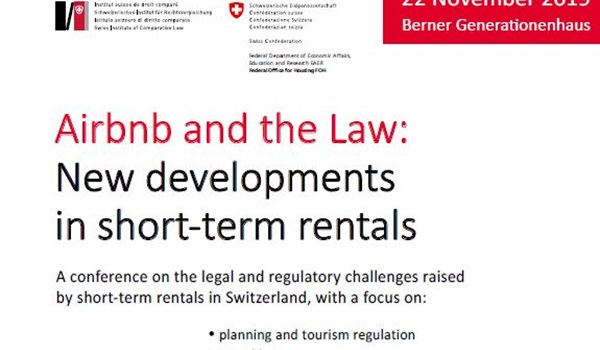 22 nov 2019
Airbnb and the Law
New developments in short-term rentals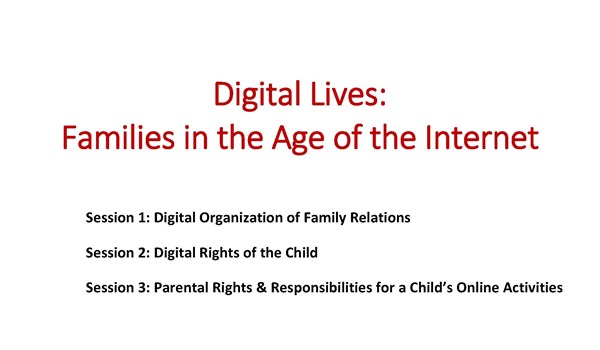 08 nov 2019
Digital Lives: Families in the Age of the Internet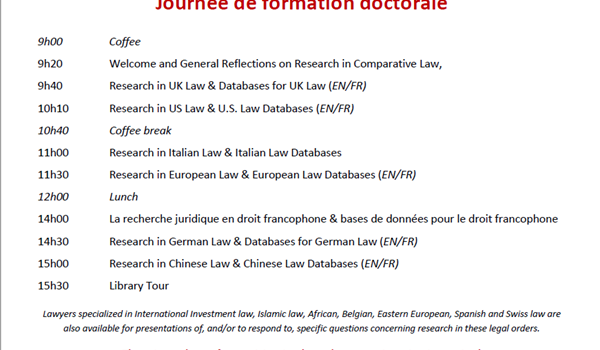 07 nov 2019
Journée doctorale
Journée annuelle organisée avec le programme doctoral en droit.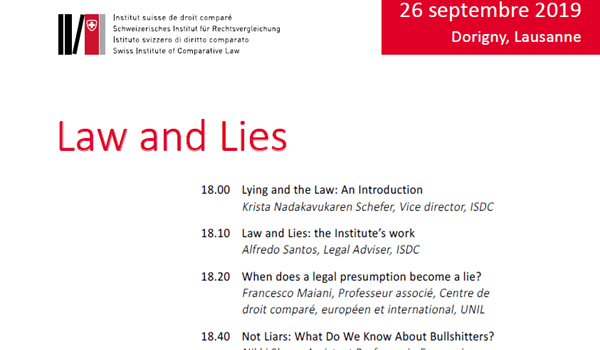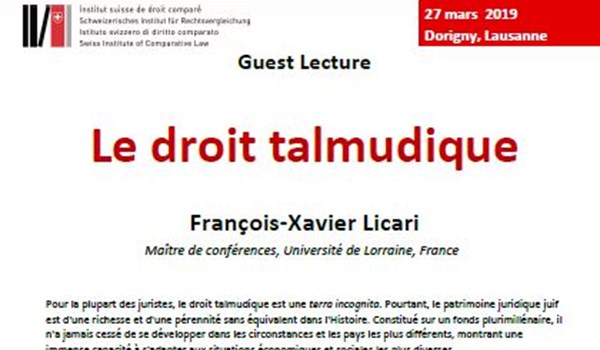 27 mar 2019
Le droit talmudique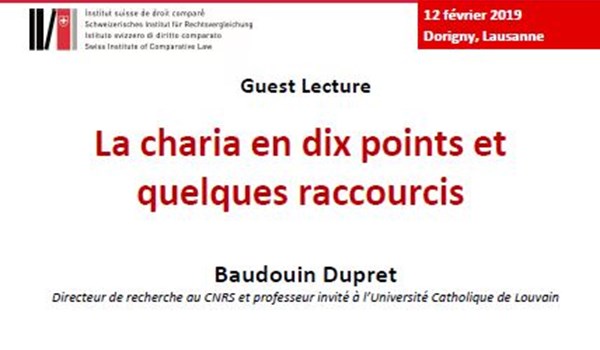 12 feb 2019
La charia en dix points et quelques raccourcis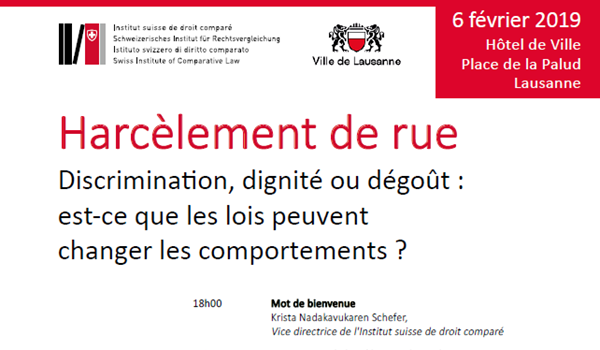 06 feb 2019
Harcèlement de rue
Hôtel de Ville, Place de la Palud, Lausanne
Conférence organisée avec la Ville de Lausanne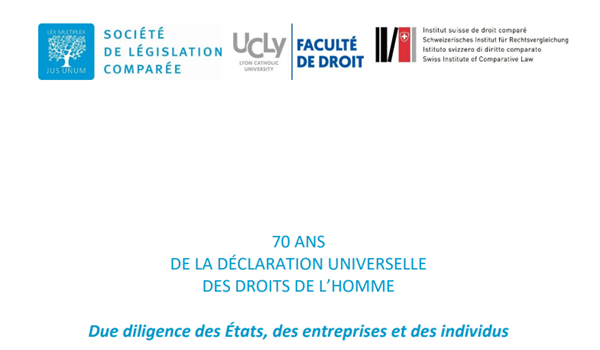 10 dic 2018
Due diligence des États, des entreprises et des individus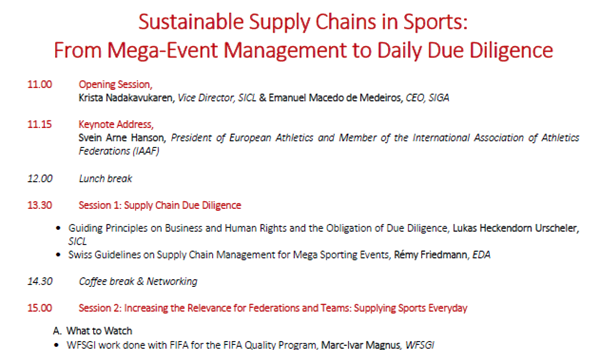 21 nov 2018
Sustainable Supply Chains in Sports: From Mega-Event Management to Daily Due Diligence
Organised with SIGA - Sport Integrity Global Alliance
Krista Nadakavukaren

Opening session

Emanuel Macedo de Medeiros

Opening session

Svein Arne Hansen

Keynote Address

Krista Nadakavukaren

Session 1

Lukas Heckendorn Urscheler

Session 1: Guiding Principles on Business and Human Rights and the Obligation of Due Diligence

Rémy Friedmann

Session 1: Swiss Guidelines on Supply Chain Management for Mega Sporting Events

Krista Nadakavukaren

Session 2

Stéphanie De Dycker

Session 2: National rules on Sport Governance

Paul Mougeolle

Session 2: Due diligence as a legal obligation in national law: the example of France

Marc-Ivar Magnus

Session 2: WFSGI work done with FIFA for the FIFA Quality Program

Colleen Theron

Session 2: How could Federations Manage Procurement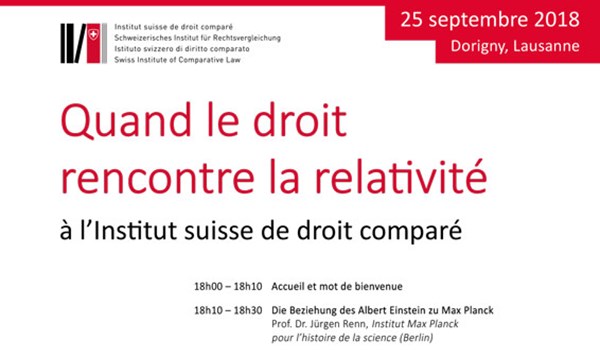 25 set 2018
Quand le droit rencontre la relativité : Soirée Albert Einstein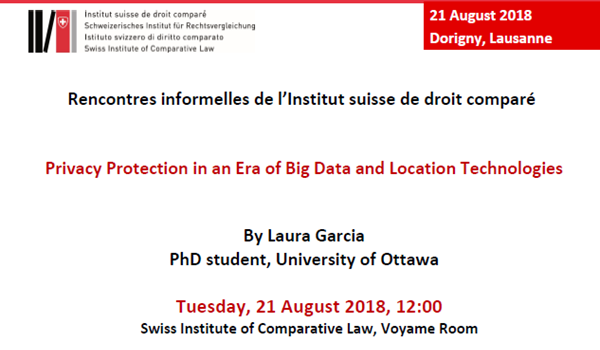 21 ago 2018
Rencontre Informelle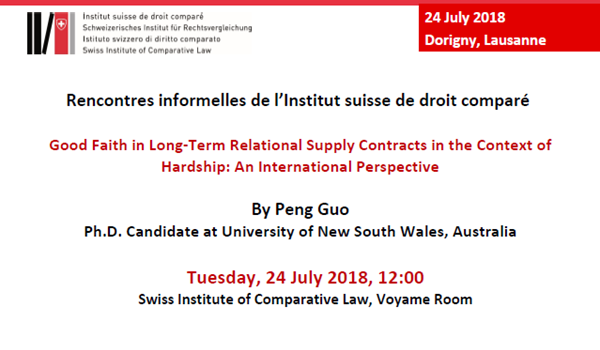 24 lug 2018
Rencontre Informelle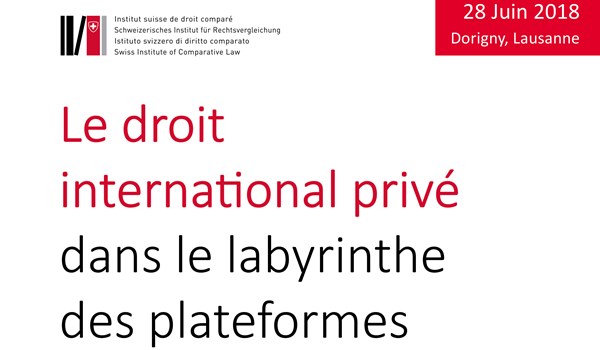 28 giu 2018
Journée de droit international privé
Le 28 juin 2018 l'ISDC organise sa trentième journée de droit international privé et la consacre aux nouveaux défis de l'économie dite « collaborative » ou « de partage ». Cette notion inclut le crowdfunding, « l'Ubérisation » et toute autre activité d'intermédiation utilisant une plateforme. Ces phénomènes de masse expérimentés à l'échelle mondiale remettent en question la division territoriale que les frontières étatiques réalisent. L'espace digital, dans lequel ces plateformes opèrent, est-il un véritable espace que l'on peut délimiter, nationaliser, qui pourrait tomber dans le champ d'application territorial d'une loi ? Ou bien se réduit-il à un nuage volatile, globalisé, délocalisée, insituable dans un territoire quelconque ? Est-il encore possible pour les Etats-nations d'assurer à leurs citoyens et/ou aux personnes résidentes dans leur territoire une protection juridique vis-à-vis de l'intermédiaire qui les emploie ou qui leur offre des services ? Ou n'est-il pas devenu indispensable, voire urgent, de créer une loi supranationale, de la situer dans ce même ciel nuageux où la plateforme se veut opérationnelle?
Et encore : est-il possible d'obliger les plateformes et leurs opérateurs à se mesurer avec les exigences particulières d'un Etat, notamment quant à la protection du travailleur comme à celle du consommateur ? Quel rôle peut jouer le droit international privé contemporain dans cette partie ?
Inscription: news.isdc@unil.ch
Ilaria Pretelli

Les contrats internationaux entre espace physique et espace numérique

Gerald Spindler

Electronic Platforms : New Regulatory Challenges

Aurélien Witzig

Tournant numérique et territoire juridique du rapport de travail

Teresa Rodríguez de las Heras Ballell

Rules for Electronic Platforms : the Role of Platforms and Intermediaries in the Digital Economy : A Case for Harmonization

Tobias Lutzi

Private Ordering, the Platform Economy, and the Regulatory Potential of Private International Law