Eventi passati
15 nov 2023
INTERNATIONAL ARBITRATION: EVOLUTION OR DEVOLUTION?
Technology, social transformations, politicalupheaval, environmental degradation, and shiftingeconomic priorities require that arbitration and, morebroadly, dispute resolution re-invent themselves.
Challenges are everywhere in this field ofarbitration: Investment arbitration faces challengesby states proposing alternatives to avoid subjectingtheir measures to international arbitral review. Incommercial arbitration, the increasing complexityand quantity of the matters to be resolved, theimpact these cases have beyond the individual parties in dispute, and raising geopolitical tensionsrequire innovative scholarship to offer potentialsolutions.
During the Symposium on November 15 and 16, wewill critically assess where arbitration is headed: isarbitration evolving toward more sophisticated formsor are there setbacks?
Are all current developments increasing efficiency inarbitration proceedings? Does arbitration still offer asuitable solution to business disputes everywhere?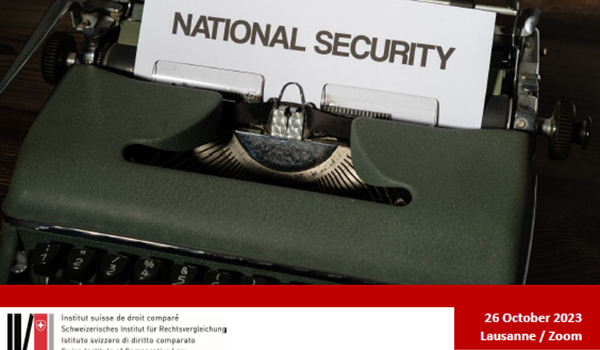 26 ott 2023
The Changing Concept of National Security and the International Economic Law System
ISDC (Lausanne) & Online (Zoom)
The recent past has witnessed a growth in national security concerns. The debates about how to address national security have become both deeper and broader as risks having seemingly little to do with military capabilities are labeled "security" threats. From terrorist networks and organized crime to pandemics and climate change, the term "security" has been extended beyond clearly definable bounds. Human security and global security are by now commonly used and interlink with the multiple others. The reemergence of war on European soil and the growing tension in the Asian Pacific, however, offers good cause to look more carefully at what states need to ensure their existence as sovereign entities – that is, at core national security. It has also demonstrated the critical link between core national security and economic power.
This one-day conference takes up an inquiry into the changing views on the concept of national security as revealed in the international economic law system. Over the course of four sessions, it will investigate what governments characterize as "national security" issues, what economic measures they are taking to reduce national security threats, and how international trade and investment decisionmakers see such measures. Drawing on experts from Europe (including Switzerland) and the United States, the discussion will also address the fundamental balance-of-power question of who should decide what is an issue of national security. Finally, the speakers will consider how an expanding view of national security will impact states that are committed to maintaining neutrality.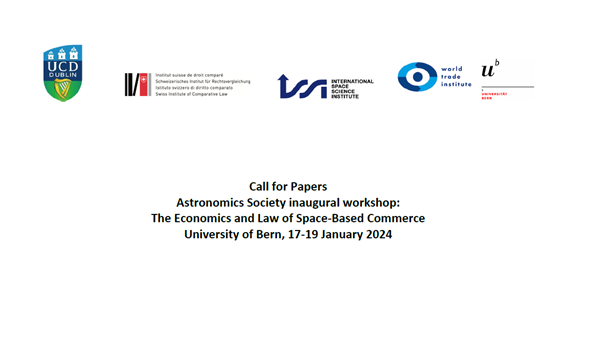 15 set 2023
Call for Paper: Astronomics Society inaugural workshop:The Economics and Law of Space-Based Commerce
Call for Papers
Astronomics Society inaugural workshop: The Economics and Law of Space-Based Commerce
University of Bern, 17-19 January 2024

This workshop will focus on the economics and governance of commercialization in outer-space. It will look at the applicability of economic concepts, the concepts of international economic law, and the concepts of economic governance to space-based commerce.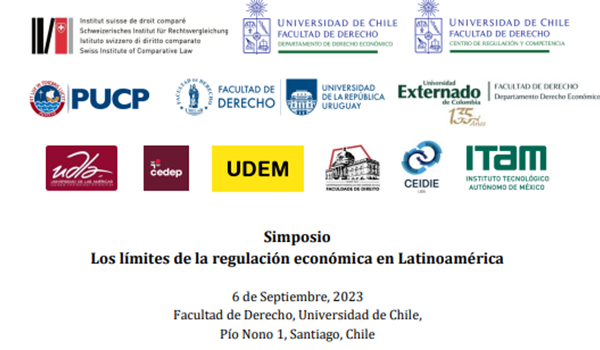 06 set 2023
Simposio: Los límites de la regulación económica en Latinoamérica
Simposio: Los límites de la regulación económica en Latinoamérica
6 de Septiembre, 2023
Facultad de Derecho, Universidad de Chile,
Pío Nono 1, Santiago, Chile
Organizan: Instituto Suizo de Derecho Comparado, Departamento de Derecho Económico y Centro de Regulación y Competencia de la Facultad de Derecho de la Universidad de Chile.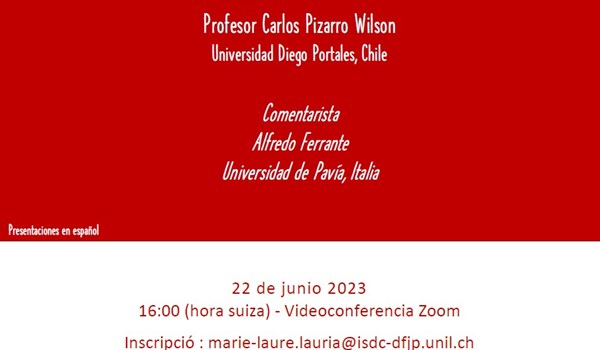 22 giu 2023
Problemáticas de la prescripción extintiva en America Latina y comparación
Profesor Carlos Pizarro Wilson
Universidad Diego Portales, Chile
Comentarista
Alfredo Ferrante
Universidad de Pavía, Italia
 Presentaciones en español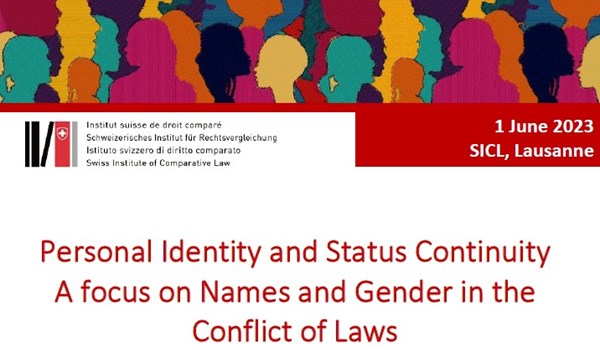 01 giu 2023
"A Critical Assessment in the Light of Fundamental Rights"
The third session of the conference "Family Status, Identities and Private International Law
– "A Critical Assessment in the Light of Fundamental Rights" will take place on 1 June 2023 at the Swiss Institute of Comparative Law
Rapport du Conseil fédéral sur l'introduction d'un troisième sexe ou abandon de la mention du sexe dans le registre de l'état civil – Conditions et conséquences pour l'ordre juridique suisse

The French authorities' refusal to replace the term "male" by the term "neutral" or "intersex" on the applicant's birth certificate does not breach Article 8 of the ECHR

The Commission's Parenthood Proposal

Relevant documents on Swiss Law and Practice

CJEU decision on Garcia Avello

CJEU decision on Pancharevo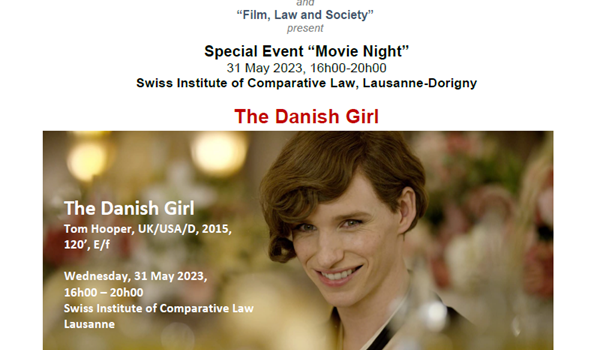 31 mag 2023
Special Event "Movie Night" : The Danish Girl
The law is constantly intervening in the search of our identities, including our gender identity. It protects them, but it also defines and regulates them. Is the law part of the solution for the Danish Girl's plight, or part of the problem?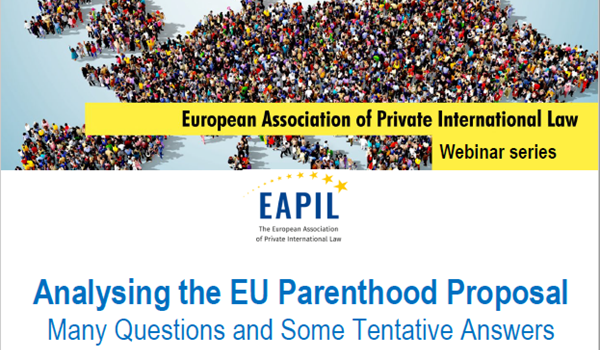 24 mag 2023
Analysing the EU Parenthood Proposal : Many Questions and Some Tentative Answers
The European Commission has published in December 2022 an ambitious Proposal for a new Regulation dealing with the private international law of parenthood (COM (2022) 695 final).
With this Proposal, the EU could for the first time adopt a private international law instrument dealing with the creation (and not only the effects) of a family status. While both the CJEU and the ECtHR have somewhat limited the freedom enjoyed by States faced with parenthood established abroad, there is not yet any precedent of an international instrument dealing with all issues arising when parenthood crosses national borders.
The Proposal is currently being discussed in the Council, with the assistance of the Commission. There is no guarantee that a Regulation will effectively be adopted. Nor is it possible to tell at this stage how much a future Regulation will deviate from the Proposal.
The Proposal raises, however, many intriguing questions which are likely to trigger an intense debate. It offers a unique opportunity to discuss the private international law treatment of parenthood with a special focus on the proposal.
During four sessions in May, experts from various (Member) States will discuss the main elements of the Proposal, find weaknesses and possibilities of improvement. Each webinar will focus on two topics. Every topic will be presented by one expert, who will focus on the content of the Proposal and on the questions and possibilities of improvement it raises. Each webinar will provide ample room for debate and discussion.
Prof. Susanne Gössl

The EU Proposal and primary EU law:a match made in heaven?

Prof. Tobías Helms

The law governing parenthood: are you my father?

Prof. Alina Tryfonidou

The mutual recognition of decisions under the EU Proposal: much ado about nothing?

Prof. Maria Caterina Baruffi

Who decides on parenthood? The rules of jurisdiction

Prof. Patrick Wautelet

Authentic documents and parenthood: between recognition and acceptance

Dr. Ilaria Pretelli

The European certificate of Parenthood: A passport for parents and children?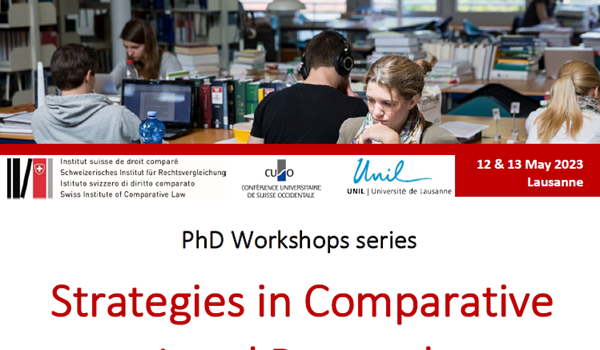 12 mag 2023
Strategies in Comparative Legal Research
PhD Workshop series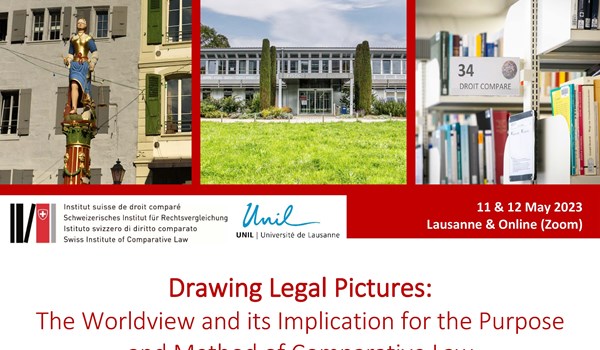 11 mag 2023
Drawing Legal Pictures: The Worldview and its Implication for the Purpose and Method of Comparative Law
Every discipline perceives and constructs the world in its own way: it conceptualizes and structures an aspect or a fragment of (perceived) reality and develops a research program and method(s) that are apt to develop this construction process having in mind a specific vision or mission. One can call such disciplinary perception and construction a "special world picture" of a discipline. Depending on different modes of scientific rationality, this world picture can be seen as the object, subject, or aim of a scientific discipline. In any case, even if not explicitly stated, this construction is a core question of a discipline. In law, various (sub)disciplines such as legal philosophy, legal theory and comparative law have developed different (albeit often mutually influenced) interpretations of the world. One could even argue that there has been competition between the (sub)disciplines for the right or the possibility to define a world picture generally valid for discourse about law.
This symposium intends to create an awareness of the fundamental experience and potential that comparative law possesses when constructing the legal; that is, when conceptualizing the "legal". Relying on its rich experience, comparative law is well positioned to take into account current developments in the field when (re-)defining its world picture, in order to conceptualize perceptions of law in a truly global perspective. The symposium invites its participants to discuss the dialectics of the Individual/unit (national and/or other legal systems), the Particular/common and the (in)existence of the General/global in the legal world as the material basis of a comparative law world picture.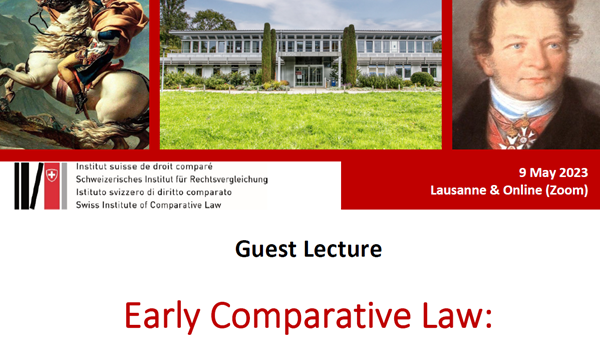 09 mag 2023
Early Comparative Law: A Treasure Map
By Prof. Oleksiy Kresin, University of Lausanne / Koretsky Institute of State and Law, National Academy of Sciences of Ukraine
Tuesday 9 May 2023, 12am (CEST) : Lausanne & Zoom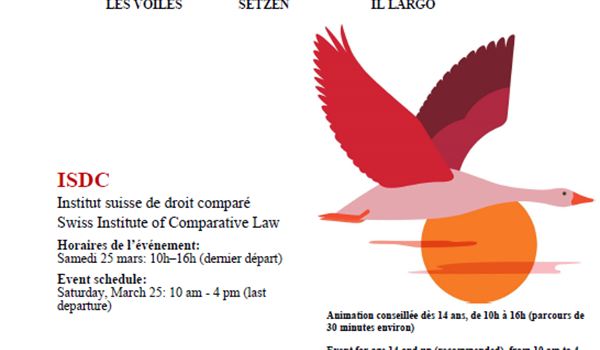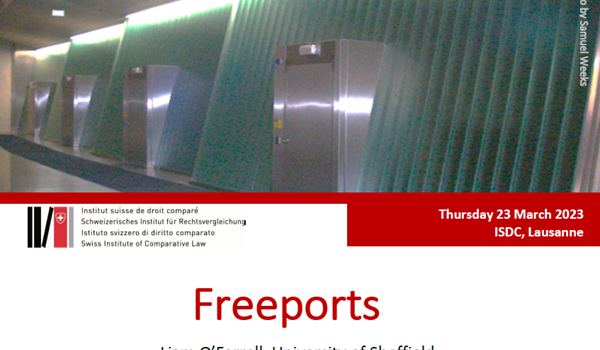 23 mar 2023
Freeports
Recent years have seen growing attention on the impacts of tax havens. However, far less attention has been given to freeports, despite some similarities. This may in part be because of the difficulty in defining the term "Freeport". The term is generally used to refer to deregulated space, but such spaces can be of various kinds and used for various interests. Comparing how the terms are used is in itself interesting - the UK government has announced its ambition for the country to be a world leader in freeports but defines the facilities differently to its European peers. Other aspects of freeports are also worthy of more study. In light of the growth of freeports and other kinds of 'libertarian architecture', Mr. O'Farrell will both examine the definition and uses of freeports and explain his research in considering the local effects and urban design implications of these facilities. His current examination of Geneva's freeports form a background to his reflections.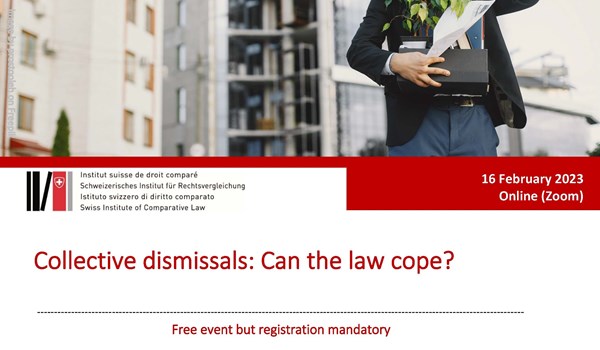 16 feb 2023
Collective dismissals: Can the law cope?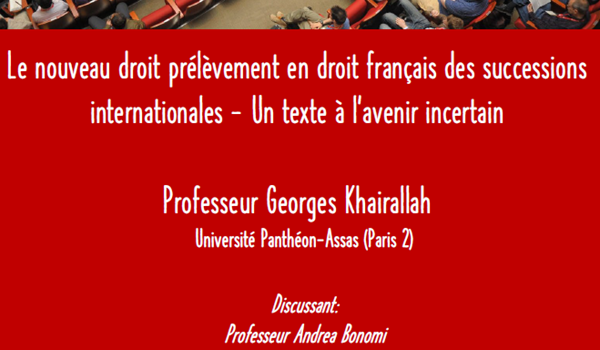 02 feb 2023
Le nouveau droit prélèvement en droit français des successions internationales - Un texte à l'avenir incertain
Inscription pour la vidéoconférence: marie-laure.lauria@isdc-dfjp.unil.ch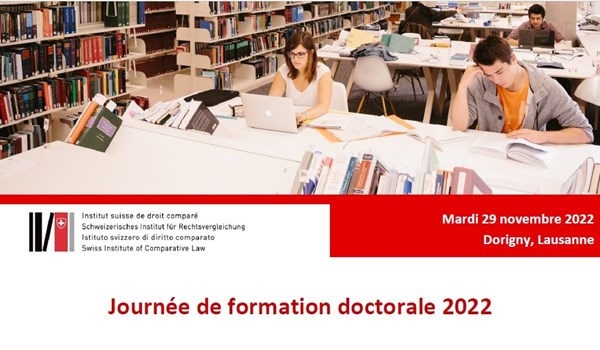 29 nov 2022
Journée de formation doctorale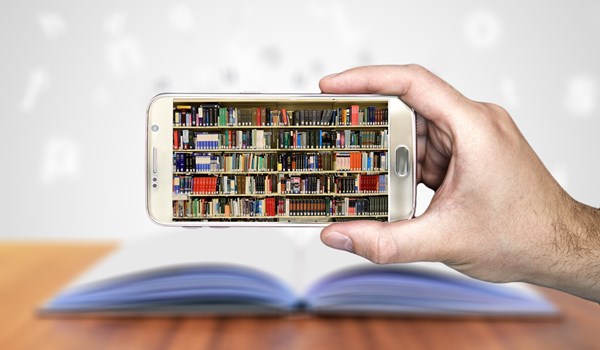 17 nov 2022
The Comparative Method in the Science of Law
Book Presentation : The Comparative Method in the Science of Law
Lev Rebet (1912-1957)

By the editors and translators William E. Butler & Oleksiy V. Kresin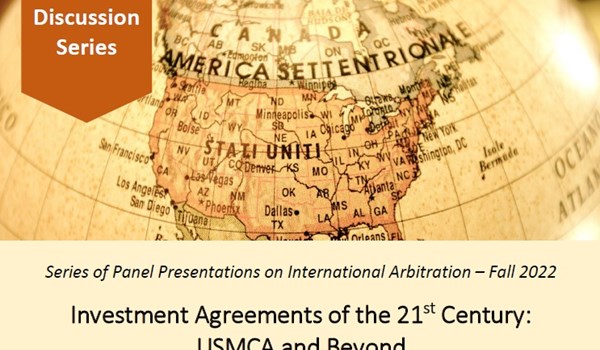 08 nov 2022
Investment Agreements of the 21st Century: USMCA and Beyond
Paris, Online, Washington DC
Looking specifically at the North American Free Trade Agreement's Chapter 11 and the Canada-Mexico-United States (USMCA/CUSMA/T-MEC) Chapter 14, this series of panels aims to evaluate what might be in store for the next generation of international investment agreements with a particular focus on the durability of treaty structures. At the base of our inquiry is the question of whether made-for-the-moment treaties can provide long-lasting protections for investors, hosts, and local communities and what structural elements can either support the long-term suitability of the treaty or what structural elements need to be added on to ensure that the treaty provisions can become long-lasting.

The four workshops compare the North American treaties and investigates their State Parties' approaches to the negotiations, hopes for the final instruments, and experiences with the texts. Our speakers are leading legal practitioners, scholars, and representatives of international institutions – each with deep knowledge of the international investment environment. The presentations will illustrate the history of Canada-Mexico-United States political and economic relations and point out the treaties' international reverberations. The panel discussions will then take up the lessons we can draw from the regional level as we look toward the future of the international investment regime.

Each workshop will be available for viewing free of charge. The first and final workshops will also be open for in-person attendance. Registration is required.
Center on International Commercial Arbitration

Videos from the 4 panels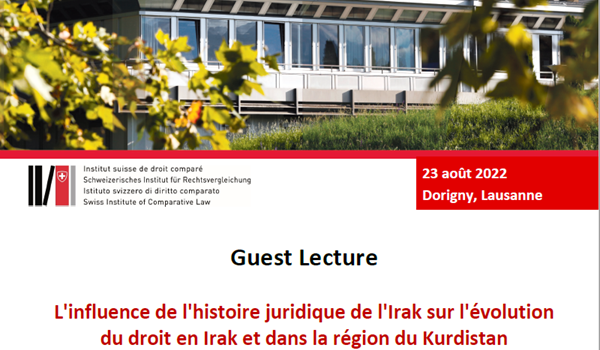 23 ago 2022
L'influence de l'histoire juridique de l'Irak sur l'évolution du droit en Irak et dans la région du Kurdistan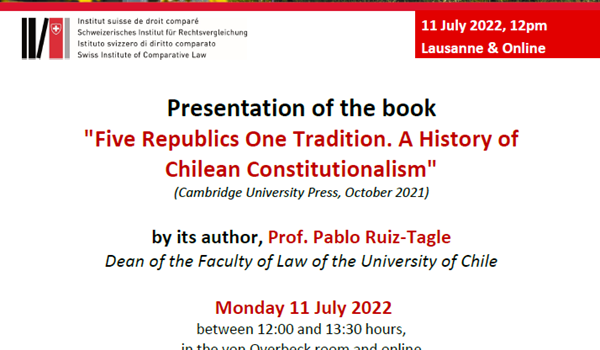 11 lug 2022
Five Republics One Tradition. A History of Chilean Constitutionalism
Presentation of the book "Five Republics One Tradition. A History of Chilean Constitutionalism" (Cambridge University Press, October 2021) by its author, Prof. Pablo Ruiz-Tagle, Dean of the Faculty of Law of the University of Chile
Followed by a conversation about the Chilean process of drafting a new Constitution, currently underway and feature remarks by:
PD. Dr. Krista Nadakavukaren Schefer, ISDC Vice-Director;
Prof. Vincent Martenet, Dean of the Faculty of Law, Criminal Sciences and Public Administration;
Joaquín Polit, assistant professor of the Faculty of Law of the University of Chile.