ISDC-FL-EUR Conference on Adult Protection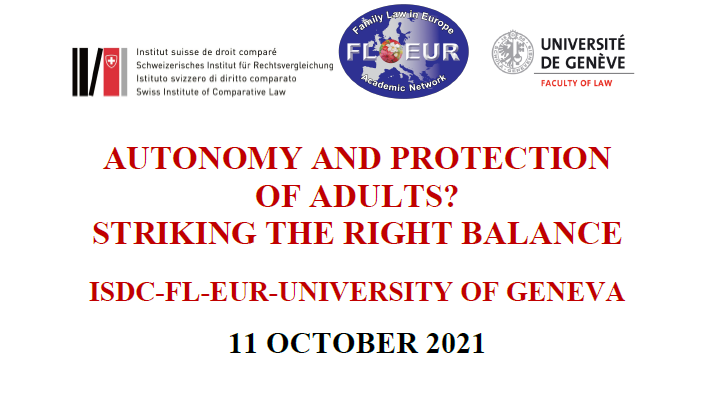 11 oct. 2021
ISDC-FL-EUR Conference on Adult Protection
AUTONOMY AND PROTECTION OF ADULTS?
STRIKING THE RIGHT BALANCE
Speakers and Moderators bios

Prof. Masha Antokolskaia (FL-EUR, VU University Amsterdam, The Netherlands)

FL-EUR: First Results

Dr. Eva Nachtschatt (Research Centre on Vascular Ageing and Stroke, Austria)

What is "Legal Capacity"?

Prof. Paula Távora Vítor (University of Coimbra, Portugal)

What is "Own Will and Preferences"?

Dr. Velina Todorova (University of Plovdiv, Bulgaria)

What is the Proper Role of the State as Guardian?

Adrian Ward (Reporter to the Council of Europe)

A comparative overview

Philippe Lortie (Hague Conference of Private International Law)

The 2000 Protection of Adults Convention

Dr. Caroline Hess-Klein (Inclusion handicap, Switzerland) and Prof. Michelle Cottier (FL-EUR, University of Geneva, Switzerland)

CRPD and Adult Protection: a Dialogue about the Swiss Experience

Prof. dr. Cees Hertogh (Department of medicine for older people, Amsterdam UMC, Amsterdam, The Netherlands)

Is this decision truly mine? Toward an inclusionary approach of people with dementia and decision making disability

Nadia Shabani (Director of the Bulgarian Centre for Non-Profit Law, Sofia, Bulgaria)

Pilot Project Empowering of Persons with Disabilities in Bulgaria

Prof. Dr. Kees Blankman (VU University Amsterdam, The Netherlands)

Real Paradigm Shift or an Unfeasible Goal?