Call for Papers for the Symposium on Salient Issues in International Arbitration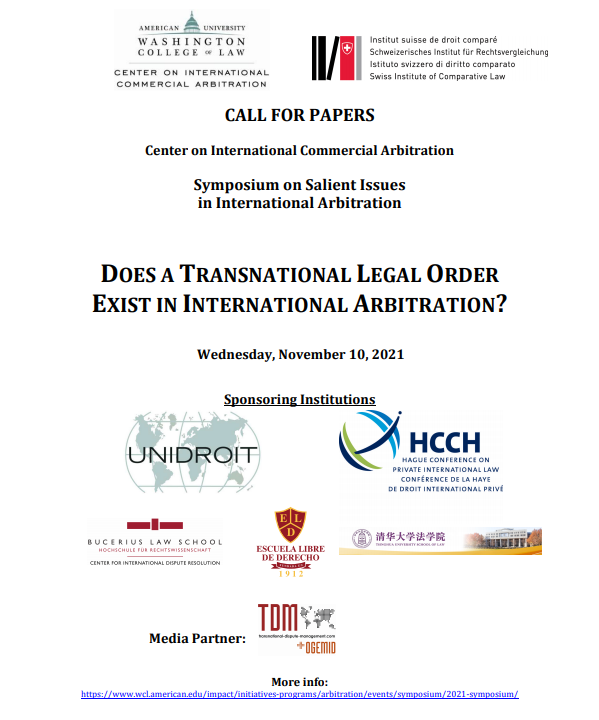 15 juin 2021
Call for Papers for the Symposium on Salient Issues in International Arbitration
On Wednesday, November 10, 2021, the Center on International Commercial Arbitration will hold the fifth Symposium on Salient Issues in International Arbitration. The topic of this Symposium will be:  
Does a Transnational Legal Order Exist in International Arbitration? 
The Symposium is organized by the Center on International Commercial Arbitration at American University Washington College of Law under the direction of Professor Horacio A. Grigera Naón, and the Institut Suisse de Droit Comparé, represented by Professors Krista Nadakavukaren Schefer and Rodrigo Polanco Lazo. The Symposium is co-sponsored by the following institutions: UNIDROIT (Rome), Hague Conference on Private International Law (The Hague), Bucerius Law School (Hamburg), Escuela Libre de México (México), and Tsinghua University School of Law (Beijing). The Symposium is also supported by Transnational Dispute Management (TDM) as media partner.
This call for papers is open to scholars and practitioners with an interest in international arbitration, where in the field of commercial or investment arbitration. Submissions may address either theoretical or practical issues related to the Symposium theme.  For example, the papers may inquire if it is possible to speak today of a genuine "transnational legal order" or if the substantive rules of international arbitration are too fragmented and unstructured to receive such a label. Submissions may also consider the efficiency and desirability of other alternative sources of law governing international arbitration. One of the central areas that may be explored is the assessment, general outreach and application of the UNIDROIT Principles of International Commercial Contracts or the 2015 Hague Principles on Choice of Law in International Commercial Contracts. 
 To submit a paper, the authors should email an attachment in Microsoft Word or PDF containing the advanced draft of their articles together with an abstract of between 300 and 600 words to arbitration@wcl.american.edu. The deadline for submission of articles is June 15, 2021. Submissions received thereafter will not be considered.  
More info: 
https://www.wcl.american.edu/impact/initiatives-programs/arbitration/events/symposium/2021-symposium/